Cryptodaily
First Web3 betting platform Dexsport launches cross-chain swaps and turbo games support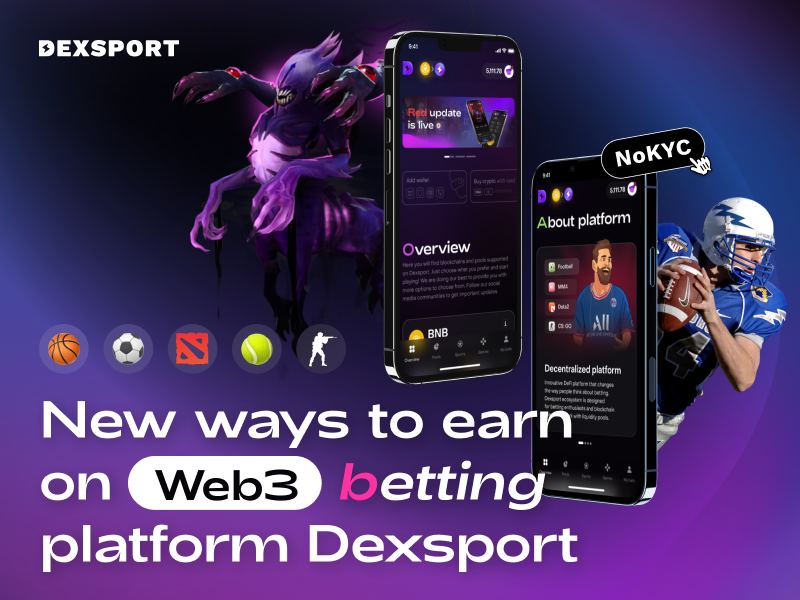 The Web3 betting platform Dexsport activated a four-part RED update. The update is aimed at increasing the liquidity circulating on the platform and improving the user experience.
Four steps to get better
The Dexsport mainnet was launched at the end of January 2022. Immediately after the launch, Dexsport devs started collecting user reviews, analyzing competitors and studying the peculiarities of market behavior. As a result of many months of work, the Dexsport team created a four-part upgraded RED. Its activation, according to the project team, will boost the growth of Dexsport's user number, attract additional liquidity, and simplify navigation. Each update component has its own goal. The combination of upcoming changes makes RED one of the most anticipated updates in the crypto betting market.
Transformation into a multi-chain platform
Dexsport now supports three blockchains: BNB Chain, Polygon, and OKC. Multichain significantly expanded the list of tokens available for users to make transactions. For example, the integration of Polygon allowed betting with Wrapped MATIC (WMATIC), while the activation of OKC gave gamers access to betting with Wrapped OKT (WOKT).
Also, the emphasis on a multi-chain format expanded Dexsport's development opportunities. This update is intended to lower the barriers to liquidity flows that enter the platform economy.
Integration of CrashX and DexDice turbo games
As a result of the upgrade, players got the opportunity to earn even during weekends in the betting market, as these turbo games are always available. The initiative will help keep users entertained during a time of shortage in the sports arena. Developers pay attention to the fact that earnings per session in CrashX and DexDice can reach x35. This level of income makes turbo games an effective alternative to betting.
Launching tools for cross-chain swaps
Now Dexsport users have access to exchange over 15,000 tokens between 12 blockchains in one click directly through the platform. The integration of tools for cross-chain swaps was implemented in the partnership with the multi-chain protocol Rubic. Access to a fast swap of tokens also expanded the possibilities for betting and simplified user operations on Dexsport.
Platform redesign
From the user experience point of view, the platform turned out to be simpler and more intuitive. The redesign simplified Dexsport's navigation.
With the update, users got access to new tools for keeping statistics, as well as a section with documents and useful articles.
Dexsport is the first cryptocurrency Web3 betting platform deployed on the BNB Chain, Polygon and OKC blockchains. The Dexsport mission is to make the betting market fair and improve people's attitude towards betting with the help of Web3 technologies. The Dexsport team believes that decentralized betting is a strong channel to accelerate the adoption of cryptocurrencies in the world.
Disclaimer: This is a sponsored press release, and is for informational purposes only. It does not reflect the views of Crypto Daily, nor is it intended to be used as legal, tax, investment, or financial advice